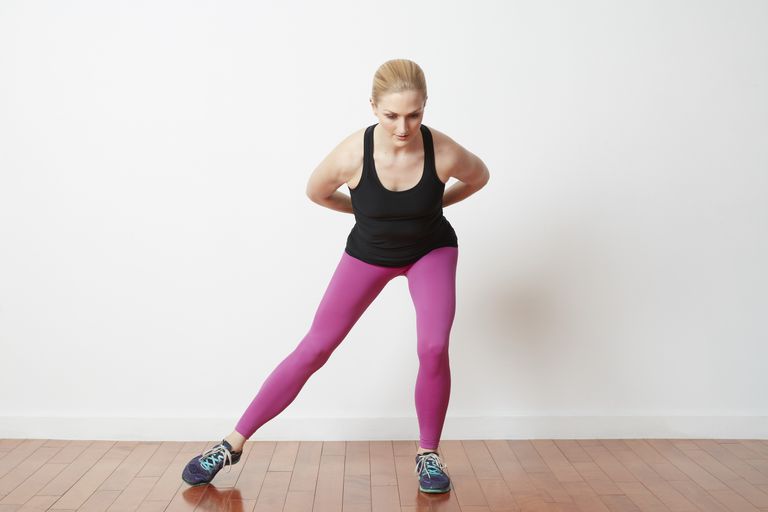 Time is running out to sign up for the FREE virtual online summit, New Year New You, and order the download package . I always order the download because I can't listen on the FREE days. This BRAND NEW online conference features 5 days of interviews from 31 amazing speakers (including me talking about my tips for getting & staying motivated to exercise!).
We've addressed the core and we've worked our arms. Next on tap is building a leg – or two legs – to stand on. Leg strength is key to supporting a healthy spine and promoting sturdy pain-free knees, hips, and ankles. Stabilizing the joints through strengthening exercises will do more than just make us look beautiful – it will give us legs to stand on as we weather pregnancy, recover from childbirth, live active lives, and age gracefully.
Do you have just 20 minutes to set aside for this awesome lower limb BLAST workout? Whether you do or do not, I challenge you to give it a go anyway! You're probably going to mutter my name with swear words after it for part of the time. It's ok with me! You will love yourself afterwards, and if you keep this up regularly, you will have powerful legs on which to stand in your daily life.
A FEW CAUTIONARY TIPS BEFORE WE START:
1) Moderate moves to go less deep as necessary for your unique body
2) STOP at the onset of any sharp or twingey pain
3) Fewer reps is NOT wimpy UNLESS 100% of your being is screaming KEEP GOING! If any part of you is telling you to stop, slow down, take breaks, or go easy, listen to it. You can always come back tomorrow and add 1 minute, 1 repetition, 1 inch of depth.
4) If you have sore ankles or knees, this workout may not be for you. If you choose to participate anyway, you do so at your own risk. Respect your body as it is right now. Wrap or bandage vulnerable joints, remember to breathe, and absolutely smile every once in awhile!
Okey Dokey. Here we go!
2 MINUTES – REGULAR SQUATS
Blast your legs into awakeness with a power regimen of squats. The perfect warm-up and an all around leg strengthener, squats are my go-to for a quick leg workout.
2 MINUTES – STRETCH QUADS AND CALVES
Now that you've got your blood circulating, it's time to pre-strech your quads and calves. Lengthening at the start of a workout is as important as it is as the end. We want to encourage blood and energy circulation. Activity and stretching together optimize overall flow through the muscles and connective tissue.
3 MINUTES – WIDE SLOW DEEP SQUATS
You'll be warm, you'll be sweating, and you'll be wishing your hips didn't respond to these long slow repetitions so willingly. At the end of three minutes you will be stronger and more flexible than your comfort zone may be familiar with. It's so good for you. Congratulations on getting through minutes 5 through 8.
3 MINUTES – LUNGES ALTERNATING LEGS
These lunges could easily be considered the apex of the workout. After the long slow wide-legged squats you've just tackled, lunges are just the thing to take your mind to an altered state. Wait, that's not part of what you love about your workouts? Hm. Well, when you're done with these you'll be halfway through the workout, and mostly done with most of the hardest parts. ; )
2 MINUTES – PRESS UP TO TOES AND DOWN
Toes, feet, ankles, and calves all triumph in 2 minutes of repeated toe presses. Yes, your calves will burn and your ankles may too, but it will be well worth it to gain the full-body stability (and muscle definition) you will derive from this classic dancer's grind.
2 MINUTES – SEATED RUNNERS STRETCH – BOTH SIDES
Just when you were starting to hate me the MOST I gave you this sweet two minutes of reprieve. A seated runner's stretch will lengthen your low back, hamstrings, and those dear calves you just pumped into awesomeness.
2 MINUTES – JUMPING JACKS – LEGS ONLY
Up and at 'em for this jumping jam session. Skip the arms portion of your jumping jacks and simply jump your feet apart and together on alternating counts. Calves, quads and cardio galore. Thankfully 2 minutes isn't too long, now is it?
2 MINUTES – WALL SIT – AIM FOR 90 DEGREES
A skier's delight, the wall-sit will make your quads burn smoke signals into the surrounding atmosphere. When your hubby comes upstairs to find out what's on fire, assure him it's just your legs which are about to be even more smokin' hot.
2 MINUTES – BUTTERFLY & WIDE-LEG STRADDLE STRETCH
At long last, the minutes you've been waiting for – a final feel-good stretch to give you something to smile about. Give yourself about a minute of each of butterfly (feet together, knees apart) and a wide-leg straddle to relax your legs and unwind your mind from this lower limb BLAST.
WAIT! – THERE'S A BONUS FOR ANYONE WHO WANTS IT
In case 20 minutes isn't enough for you, go walk a hill or run the stairs or prance the sand. You legs will be pumping as you tread powerfully in the world, and best of all? You will inspire others to get a pair of their very own.
Do you have questions for Julie? Ask in the comments below or post them on my facebook page!
PAID ENDORSEMENT DISCLOSURE: In order for me to support my blogging activities, I may receive monetary compensation or other types of remuneration for my endorsement, recommendation, testimonial and/or link to any products or services from this blog.