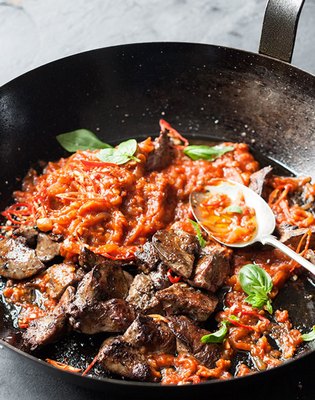 This week's real meal of the week is one of our family's favorites.  We roast a chicken at least once a week — partly because we all love to enjoy a freshly roasted bird out of the oven, and partly because we get so much bang for our buck.
For 3 of us, a roasted chicken will usually cover 2 dinners and one lunch, plus at least an additional snack AND we get to make bone broth from it when we're done.  If I roast a chicken on Monday, by Tuesday night the bones are simmering in the slow-cooker while we're sleeping.  The bone broth will last us a week (I use one set of bones and feet in THIS slow cooker), by which time we're definitely ready for another roasted chicken dinner.
I like to chop up root vegetables & lay them around the base of the bird.  They soak up the fats, fluids & nutrients so well – that way get are sure to get all of the nutrition out of the chicken, and the roots are flavorful as well.  I finish off the meal with sauteed greens, usually kale or collards, and throw in a side of sauerkraut or other fermented veggies.  For dessert, Miss Z, Real Fit Daddy & I usually munch on some sliced up apples & pears.
Roasted Chicken with Roots:
With so many flavor options available to dress-up your chicken, I encourage you to experiment, play & cater to your family's tastes.  We tend to like our chicken pretty simple.
Buy a whole pasture-raised chicken, rinse & dry it
Place in a glass baking dish (like THIS one).  I roast ours breast-side up because we love crispy skin in my family.
Season generously with sea salt (we use THIS one).
Use 2 large tablespoons of coconut oil (we use THIS one) to oil the breasts & legs (if you want crispy skin & are cooking it breast-side up)
Wash & cut sweet potatoes, onions, carrots & any other root vegetables you like (daikon, turnips, parsnips – all are delicious in this dish!) into large inch-sized pieces & place around the chicken in the baking dish.
Sprinkle roots with sea salt and spread 1 tbsp coconut oil around them.
Place in a preheated oven on 350 deg. F for 2 hours.
Remove from heat, use meat thermometer (like THIS one) to make sure meat is at least 165 deg. F.
Sauteed Greens:
Wash and cut 2 bunches of greens (leftover greens are my favorite add-on to meals the next day!) into 1/2 inch thin strips.
Place 1 heaping tbsp coconut oil in a large pan, add 2 tbsp grass-fed butter (like THIS one) & place on medium-low heat.
Throw the greens into the melted fat, follow with just a splash of water, and cover for 3 minutes.
Once the greens have wilted partially, removed the cover and toss over medium heat.
Continue stirring frequently for 8-10 minutes.
Remove from heat when greens are cooked to your liking – I like to keep mine a deep vibrant green.
This post is linked to Thank Your Body Thursday.
PAID ENDORSEMENT DISCLOSURE: In order for me to support my blogging activities, I may receive monetary compensation or other types of remuneration for my endorsement, recommendation, testimonial and/or link to any products or services from this blog. Your support keeps this blog running and is greatly appreciated!