If you are someone who is ready, willing or wanting to have it all then you need to check out this program…
Announcing Real Fit Mama's new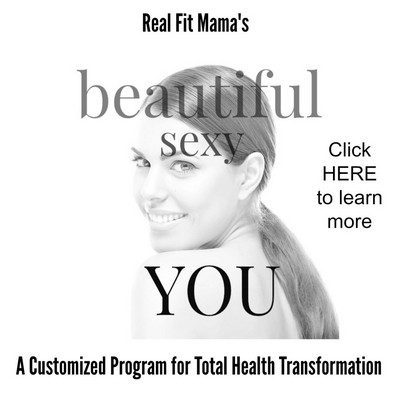 Beautiful Sexy You: A Customized Program for Total Health Transformation
The only program that is custom tailored to your personal inner and outer wellness goals, including your Custom 21-day Reset Diet, a personalized Fitness Map, your unique Blueprint to Optimize Metabolism, Meditation for Stress Management, and many many more personalized health secrets…
This program's priceless content you won't find anywhere else includes:
A Customized Diet Plan for A 21-DAY Nutrient Dense Reset
Together we will uncover the optimal diet for your body, and as a part of your 8 week program you will embark on a 21 day reset diet comprised of nutrient dense foods that will nourish your cells, reduce inflammation, cleanse your body, and undo any dietary triggers that have been hindering you from feeling like your best self up until now. Once we have found the program that works best for you, you will have this to refer back to always, whenever you feel you need a reset.
A Personalized Fitness Map
During our 8 weeks together we will map out a solid set of workout plans made especially for you, and designed to help navigate fluctuating routines. We will define a relationship to fitness that is true to your personal goals and your unique body.
Your Unique Navigation Menu for Dining Out, Events & Travel
Do you dine out often for work or simply because you enjoy it? In this program we will set you up to win even in tricky situations like dinner parties and travel. We want you to be worry-free and confident about making the best choices for your body in any and all circumstances.
Transformative Beauty Protocol:
How YOU Radiate Health in Body, Mind & Soul
True beauty radiates from the inside out, and it has everything to do with how you feel. We will spend time on our calls delving in to your mind and soul so that you can tap into your most radiant self every single day.
Your Personal Metabolic Blueprint
Learn what your metabolism is trying to tell you and how to rebalance it. We will create a blueprint of habits that contribute to your ideal levels of energy, rest, digestion, and peace of mind.
Nourished Soul Meditation & Relaxation Techniques
Wouldn't it be nice to feel relaxation on a daily basis? Together we will uncover any road blocks to your peace of mind, and set up simple techniques to keep you on track. Stress can be an obstacle to health, and when addressed, it's opposite relaxation can boost healing capacity.
You'll get this all working one on one with a Chinese medical expert, the founder of Real Fit Mama & author of Real Fit at Every Age…
Meet Julie de Lagarde, founder of Real Fit Mama & originator of the Beautiful Sexy You, A Customized Program for Total Health Transformation, the only program that custom tailors inner and outer healing for your unique needs and goals. Julie combines a decade of clinical practice and her Chinese medical knowledge with a lifelong passion for fitness. Her commitment is to ensure that you achieve all of your health & beauty goals for the perfect brand of health that is 100% YOU.
---
WHAT'S SPECIAL ABOUT
Beautiful Sexy You?
Your Health is Urgently Calling You to Start Today
---
What's special about Beautiful Sexy You?
This program is designed to be a high-energy, highly motivating coaching environment.  We created it this way for one important reason.  Individuals who get one-on-one coaching tend to get better and longer lasting results in their health.  We don't try to automate or be the BIGGEST program because we care about you getting personal attention and clear information.
Instead of aiming to be the biggest, we strive to be the best. You receive the benefits of coaching and collaborating with one of the best health and fitness practitioners in order to maximize your results and minimize the time and guesswork.
This is a once in a lifetime opportunity to take new ground in your health goals.  You can finally quit chasing diets, workout plans, and often conflicting mainstream health advice so that you can once and for all learn how to navigate your unique body and create lasting wellbeing.
Warmly, Katherine Fleming
---
How much does it cost?
If you're wondering about how much it costs, think about this:
With Beautiful Sexy You, you get priceless coaching you will never get anywhere else.
That's why the 8 week Customized Total Health Transformation is fairly valued and reasonably priced at only $1795. Now $1795 is no joke. And we have intentionally priced this program in a way that weeds out people who aren't serious about their health. Many personal trainers, doctors, and healers charge individually at $200 and up per hour and you're getting the same high level of attention as those who have paid thousands more to run from trainer to doctor to nutritionist every week.
Remember, any amount of vitality & YOUness you get from these 8 weeks will be worth $1795 to you. And think about this: According to Statista.com, the average American spends over $1100 a year on coffee. So your yearly coffee costs almost 3/4 of this program!
Any level of entry into Beautiful Sexy You is a steal when you consider the level of commitment and care we have to you and your health.  We are committed to making sure you leave our work with you with a new wealth of beauty, health and vitality.
What you should know before you register today
You risk nothing to reserve your space today. If, after you register, your schedule changes in the next 30 days for any honest reason and you can't participate, then we will take care of you and make sure you get your money back. We do right by our customers and don't want you to risk anything by reserving your spot today.
As of now, however, we intend to serve only 90 participants total in this year's Beautiful Sexy You program. Since program spaces are limited, we ask you only take one if you're serious. We want you to be fully committed to the entire experience so there is no "you can quit after the first day" refund policy. Thank you for understanding.
Before you grab your 8 week transformation program, you may prefer instead…
30 Day Ultra Detox
If you're looking for a concentrated physical, mental, and soul-level recharge the 30 Day Ultra Detox may be your best plan.  During these four weeks of committed action with a minimum of 3 check-ins per week,  you will complete a serious detox, restore your being at a cellular level, and even create a whole new you
Quick Call
If you are wanting to sample, get a jumpstart, or tackle some immediate concerns, a 45 minute introductory session may be the perfect introduction to your customized health transformation.  During this 45 minute coaching call, ask Julie's expert advice on any number of health goals and set up a step by step plan for action towards them.
---
So, which customized program will be best for you?
Here's what to do next: Pick the program you prefer, and reserve your space right away. Don't delay because only 90 people can participate in total this year.
If you sign up today for your Customized Health Transformation then you qualify for today's pricing, which means you can begin your program any time this year without the price of the program going up . See the order form on this page for current pricing. The price you see will never be lower than it is right now.
After you sign up for your program, I'll send more details to you by email. You'll get the call-in information so you can schedule your first call.
Here are your three options…
Option 1: I want the 8-Week Customized Total Health Transformation
And a good reason to get yours now is…
There are only 90 Beautiful Sexy You spaces available total for the year.
So send a one-time payment of $1795 if you get your space today, and we will get started right away on your health transformation!
Your 8 Week Program Gets You:
24 Individual Coaching Calls Over 8 Weeks
A Customized Diet Plan for a 21-Day Nutrient Dense Reset, tailored to you, to last a lifetime
Your Personal Navigation Menu for the Real World: Tricks to Dining Out, Dinner Parties, and Travel
Your Personal Fitness Map – A Game Plan for Making Fitness Work for You Instead of You Working for It!
Transformative Beauty Protocol – How You Radiate Health in Body, Mind and Soul
Customized Anti-Aging Strategies
A Personal Metabolic Blueprint
Nourished Soul Relaxation and Meditation Techniques
A Clear Sense of Where You Are with Your Health and Where You are Going
Rigorous Goal Setting  & Accountability
A Special Bonus Gift!  One Year's worth of Weekly Nutrient-Dense Meal Plans from Realplans.com
Option 2: I want the 30 Day Ultra Detox
Send a one-time payment of $995 to start your 30 Day Ultra Detox today.
Your 30 Day Ultra Detox Gets You:
12 individual coaching calls
A Customized Diet Plan for a 21-Day Nutrient Dense Reset, tailored to you, to last a lifetime
Your Personal Fitness Map for Detox and Beyond

Customized Cellular Renewal Strategies

A Personal Metabolic Snapshot
Detoxify Your Soul Restorative Techniques
Health strategizing and What's Next After 30
Option 3: I want the 40 Minute Quick Call
Send a one-time payment of $99 to set up your 40 Minute Quick Call Now.
Your 40 Minute Quick Call Gets You:
One 40 Minute Coaching Call
A review your most important health concern and goals
A key to how to navigate food, exercise, sleep, and stress in regard to your concern
Your personl habits of health vs. your habits of breakdown
An action step plan for moving forward on your goals
Plus! A special discount of $100 when you sign up for the 8 Week Program or $50 off the 30 Day Ultra Detox