I recently travelled to Berlin, Germany with my 2 1/2 year old daughter to visit my dear friend Sommer. Sommer's Dutch nanny had made some absolutely delicious jam from the plums off the tree in Sommer's garden. Combined with fresh figs, the tangy flavor of these cooked plums was melt-in-my-mouth delicious. So delicious, as a matter of fact, that I had to share it with you!
Jam is surprisingly easy to make and doesn't have to be an all-day time consuming adventure. The result knocks the ball way out of the store-bought jams park, and will make going back to anything less fresh and personal next to impossible for you.
Below is a photo of the last of the plums from Sommer's tree.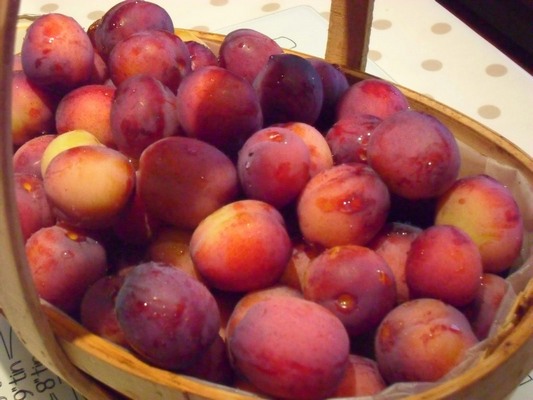 Plum & Fig Jam Ingredients
Fresh Plums – 2 cups
Fresh Figs – 2 cups
Fresh squeezed Lemon juice – 1/8 cup.
Water – 1/4 cup
Honey – 1/2 cup raw honey (adjust to desired sweetness)
How To Prepare Plum & Fig Jam
Chop plums & figs into small pieces.
Place chopped plums and figs in a large pan. Bring fruit to a low simmer for 5 minutes.
Add honey and continue simmering for another 20 minutes, stir occasionally. You will notice the mixture becoming thicker as you cook it longer. If it gets too thick and pastey, simply add more water.
Stir in the lemon juice, remove from heat, and let cool.
Pour into glass jars. Will keep in the fridge up to a month.
Enjoy on rustic bread, muffins or alongside your favorite cheese!