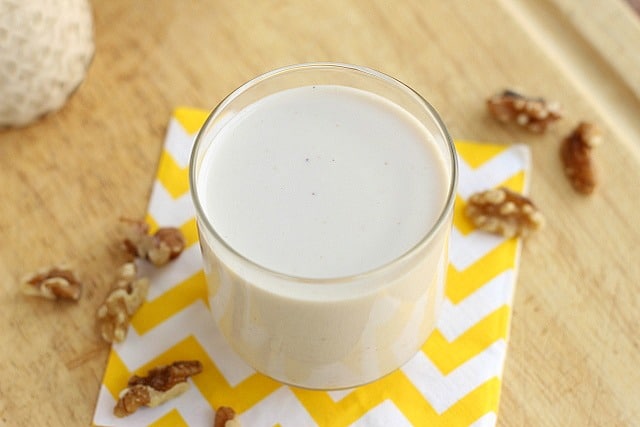 Every morning when the alarm goes off before dawn I get out of bed to make coffee. I stumble around in the dark, sleepily waiting while the fresh coffee brews and the scent fills the darkness. I stand at the counter in the dark with an empty mug and my homemade almond milk, ready and eager.
Last week Z Baby and I travelled to Berlin to visit my best friend from college. She lives in a beautiful house with a garden surrounding it in East Berlin. In her garden is a gigantic walnut tree (amongst many other great trees – stay tuned!), which was shedding the last of its leaves and nuts while we were there.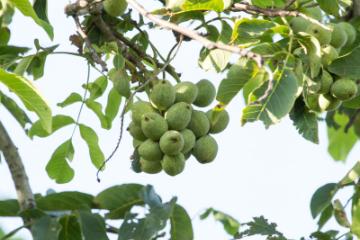 We collected walnuts from the grass and put them in storage to dry out for a few months, and then my friend showed me the enormous collection of walnuts she had gathered before our arrival, which were now dried & ready to eat.
Besides walnuts in our salads and walnuts for snacks, I made the most amazing batch of fresh walnut milk which has now replaced my almond milk in my morning coffee. It's good to have some variety in our routines – both for our souls and for our bodies.
Walnuts are rich in Vitamin E, Omega 3's, manganese, and copper, all of which we need for proper hormonal balance and cellular function. When we make walnut milk, we get all of the nutrients minus the fiber. Nuts also contain high levels of calcium and magnesium, both crucial to a healthy mind and body.
How to Prepare Your Own Walnut Milk:
Walnut milk is ridiculously easy to make. You will only need a few ingredients and tools, as well as a relatively short amount of time to make such a delicious treat.
Ingredients:
1 cup dried walnuts, organic & raw
4 cups fresh water
a dash of sea salt (optional), like this one
1 tsp honey (optional), like this one
How to Prepare:
Soak the walnuts in filtered water for 12-24 hours
Strain the water, then place in a blender, many people like this blender, but a blender like this one will also be just fine
Blend on medium to high speed for up to 5 minutes (this makes your walnut milk so smooth)
Add optional salt and/or honey and blend for 1 additional minute
Use a cheesecloth, like this, or re-usable coffee filter, like this one, to strain the milk into a mason jar.
(optional) – Pour into a glass milk bottle, like this one.
Discard the solid remains in the filter or cheesecloth
Enjoy!
Your walnut milk will stay good in the refrigerator for up to a week. It is normal to see some separation. Simply shake before pouring. You can use walnut milk any time you would normally use any other milk – rice, almond, cow, or goat. Enjoy!
Did you enjoy this recipe? Leave me a comment below or stop by my facebook page!