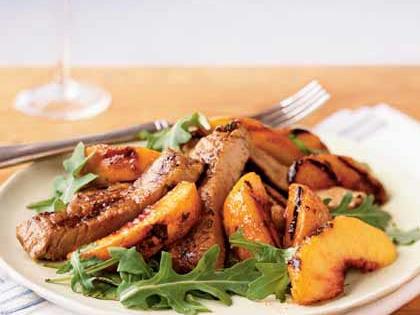 Why put away the slow cooker, just because the weather's warming up? I still have to work, which means I still need that help in the kitchen on my busiest days. Besides, the peaches are ripening on our tree, and the farmer's market is already rich with both white and yellow peaches. What better time to set the slow cooker up with some bone-in meats and a green salad with pit-fruits?
Great for everyone, this meal is also a perfect third trimester meal for you pregnant folks! The bone-in pork will nourish the liver and kidneys, soothing the developing nervous system of your soon-to-arrive bundle of joy. The pit fruits help to move the liver energy and clear any heat that may be accumulating there.
INGREDIENTS:
6 bone-in foraged pork loin chops, each about 1 1/2 inches thick
Sea salt and freshly ground pepper
2 TBSP olive oil, coconut oil or lard
2-4 strips bacon, finely chopped
1 large onion, halved and thinly sliced
6 cloves garlic, sliced lengthwise
1/2 c. chicken or pork stock
1/2 c. unpasteurized beer or dry white wine (omit if your diet is alcohol free – sub. extra 1/2 c stock)
2 TBSP apple cider vinegar
5 cups arugula
4 peaches, pitted and thinly sliced
Season the chops on both sides with salt and pepper. In a large heavy pan, warm the oil over medium-high heat. Add the chops, in batches if necessary, and sear until golden brown on both sides – about 4-5 minutes per side. Transfer to a plate and set aside.
Pour off the fat (optional) from the pan and return to medium-high heat. Add chopped bacon and onion. Saute until they brown, about 8 minutes. Add the garlic, then pour in the beer, wine or 1/2 the stock to bring up any browned pieces from the bottom of the pan. Stir in the stock, vinegar, 1/4 tsp sea salt, and a dash or two of pepper. Transfer the contents of the pan to the slow cooker.
Stack the pork chops on top. Cover and cook on the low setting for 7 hours. They will be succulently tender when finished cooking.
Transfer the chops to individual plates and spoon the braising liquid over them. Pile the arugula and peach salad alongside the chops or over the top. Serve.
Don't miss a post! Subsribe to my mailing list and join me on Facebook.
PAID ENDORSEMENT DISCLOSURE: In order for me to support my blogging activities, I may receive monetary compensation or other types of remuneration for my endorsement, recommendation, testimonial and/or link to any products or services from this blog.