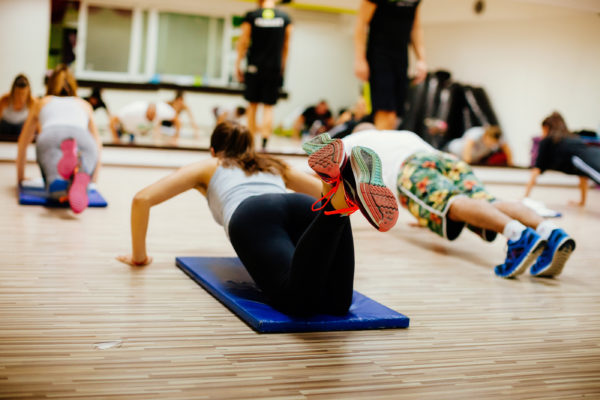 Time is running out to sign up for the FREE virtual online summit, New Year New You, and order the download package. I always order the download because I can't listen on the FREE days. This BRAND NEW online conference features 5 days of interviews from 31 amazing speakers (including me talking about my tips for getting & staying motivated to exercise!).
Having core strength you can count on is vital to balancing the negative health effects of sitting at a desk or in your car for long hours. This is why I offer up these 5 easy exercises for any time and anywhere. The long-term effects of a primarily sedentary lifestyle are staggering – and include everything from heart disease to diabetes. Changes in posture also occur in a short time that tamper with the normal function of our vital organs. I am not oversimplifying when I say that our vital organs are our greatest source of both health and disease.
Tuck these 5 easy moves in your workout pocket, and you'll be armed with great health-promoting techniques you can literally do any time and anywhere. Spend 5-10 minutes on these 3-4 days/ week and within 3 sessions you will notice tangible results. Did you know that your core muscles are the FIRST to muscles to contract in any exercise? That's amazing!
The first time I ever put together this little workout I noticed 2 things. 1) That my body instantly looked AND felt stronger. 2) That I was PUMPED to do more of a workout. With a solid core, you are well on your way to having a body you can count on to support you through your day.
Let's have a look at 10 health benefits of a core workout:
prevents & reduces back pain – from your shoulders to your tailbone
reduces chances for injuries & improves overall coordination
promotes fertility
detoxifies the vital organs
benefits functions of the vital organs
makes all your other workouts EASIER and MORE FUN
gives you awesome abs
aids in recovery from pregnancy and childbirth
improves balance and stability
improves respiratory function
1 – Iron Brooms
Bend one knee and keep the other leg straight. Only go as far as you can without putting strain on your low back. High off the ground or having your bent knee at 90 degrees to your lower leg is still plenty to activate and build a solid core. For core-building specifically: bend one leg, shift to the other leg, then stand up and bring your legs together. BEND. SHIFT TO THE OTHER SIDE. STAND UP, LEGS TOGETHER. I like to shift every other leg, but you can also do 5 on one side and five on the other. Repeat 5-10 times for each leg. YOWZA.
2 – Squats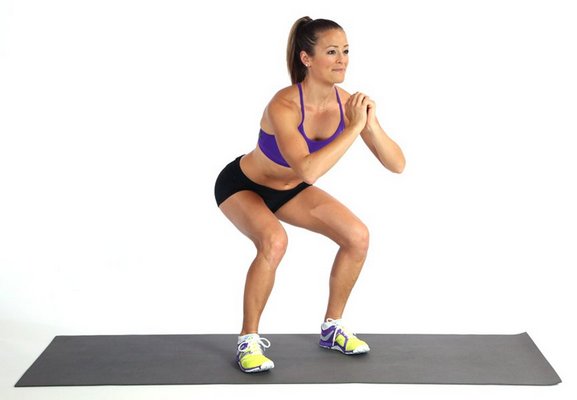 20 squats is a good number to start with – or 2 sets of 10 with a rest in between. If you want to train like Rocky, try for 50 squats without rest (not recommended if you're new at squats!). Be sure to breathe and engage your abs while you're squatting. This should not hurt your knees AT ALL.
3 – Lunges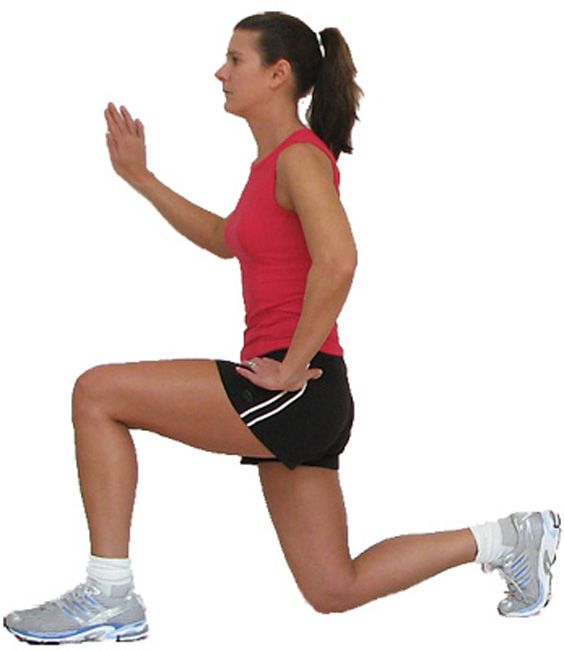 20 lunges, 10 on each leg – is an excellent way to build your core and promote excellent balance. Keep your front knee bent to 90 degrees or less, and PRESS through both feet evenly to fully engage your abdominal muscles and your gluts. (For a bonus: stretch the quads muscles on the front of your thigh after lunges for added lengthening and re-engagement of the psoas.)
4 – Side Plank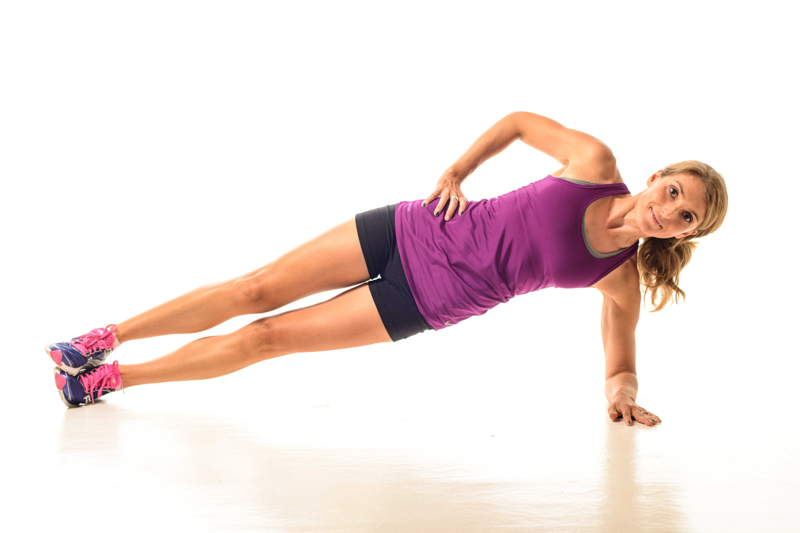 OOHH man, this is the one that gets me every time. If I can get through 30 second holds on each side with 10 hip touch-downs at the end (on each side) I feel like a rockstar and like I've faced my demons. This builds great core connection between the rib cage and the pelvis, and is the secret to that little muscle near the hips (at the iliac crest) that everyone seems so fond of. It really strengthens my entire body, and was pivotal in healing my posture, my belly, and my low back after my pregnancy.
5 – Knee-Ups

From a push up position, draw your right knee up to your right elbow 5 times. Knee to elbow, straighten it back down, knee to elbow, straighten in back down… 5 times. Then repeat with your left knee to left elbow 5 times. After that, take a break, and repeat but the second time CROSS your knee to the opposite elbow – right knee to LEFT elbow 5 times…and do the same with LEFT knee to right elbow.
These 5 strength training exercises have been FAR more valuable to me than regular sit ups or crunches – and what I love about them is that I can do them anywhere. Out for a hike? Just find a flat area right off the trail and whip out some lunges. At the office? Give me 2 minutes to get through some side planks. Even though I'm moving through some resistance, I'm always so glad I've done it afterward. You will be amazed at how powerful these 5 simple movements are in shaping your core strength and boosting your wellness factor – whether you are adding them to your current workout or making them your exercise cornerstone. Enjoy!
Did you enjoy this post? You can now purchase my ebook – Real Fit at Every Age for helpful workout tips, health advice, and fitness guidelines. Don't miss a post! Join my mailing list.
This post is linked to Party Wave Wednesday and Thank Your Body Thursday.<
PAID ENDORSEMENT DISCLOSURE: In order for me to support my blogging activities, I may receive monetary compensation or other types of remuneration for my endorsement, recommendation, testimonial and/or link to any products or services from this blog.