After discovering that my wardrobe has become years-old, I made one of my goals for Fall to create a closet of new clothes that I absolutely love without breaking the bank or crushing my schedule. Enter Stitch Fix.
Some of you may have heard of Stitch Fix. With Stitch Fix, a virtual personal stylist picks out my monthly "fix" and voila! in the mail is a box of 5 items hand picked for me based on my preferences. If I don't like any of them, I send them back. Whatever I like, I keep and pay for. That's it! Pretty awesome.
Today I received my first Fix. In a moment I will show you each item that arrived in my box, but first – I want to explain a little bit more about what this is and how this has anything to do with being a Real Fit Mama.
What is Stitch Fix?
As mentioned above, Stitch Fix is an online business through which a stylist picks out clothing for you and sends it to you. When filling out the online questionnaire upon sign up, I answered many questions about my tastes, spending preferences, likes and dislikes. I pay a minimal $20 for styling with each delivery; this is the only amount I pay if I send back all of the clothes. If I keep ONE (or more) item and purchase it, the $20 is credited back to me. Pretty awesome!
What Does This Have to Do with Real Food, Fitness, and Being a Mom?
Part of the Real Fit Mama philosophy of great health includes celebrating and enjoying the bodies we have. Clothing that feels good and that I feel good in enhances my sense of wellbeing. I believe older clothing carries former toxins from our bodies, and I think it's important to replenish our wardrobes from time to time. Also, as a Mom, my clothes enjoy a whole new level of wear and tear. Between stains, frequent washings, and a solid increase in activity and heavy lifting, it is rare that my favorite clothing items last more than 1-2 years as a Mama.
As a busy working and working-out Mom, I don't always set aside time to do things for myself. Shopping often gets completely forgotten about or squeezed in on a necessity-only basis. With Stitch Fix, I don't have to forego my workouts, time with my family, cooking time, or career time to have beautiful exciting new clothing picked out by a stylist. Also, new clothes are fun! I love that someone has my back and is thinking outside of my normal comfort-zone picks for me.
Ok, are you ready to see what came in my first box?
Katherine's October Stitch Fix Items
Seriously, when my box arrived today it felt like I had received a present! It was like buying myself a gift and having a new friend I haven't met yet pick it out for me. Pretty awesome. Maybe also because October is my birthday month, I'm still in the birthday spirit!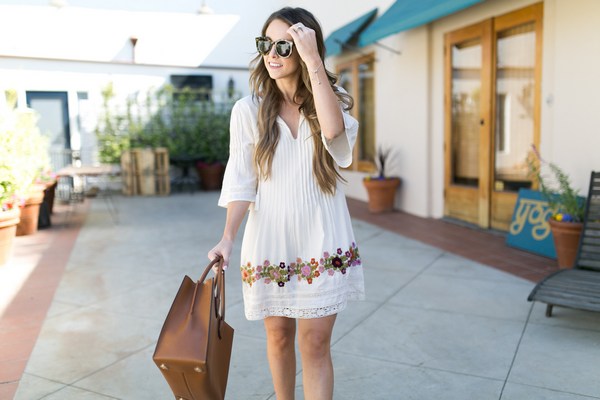 Inside my box were a few beautifully wrapped packages of tissue paper around the clothing items and an envelope which contained a personal note from my stylist Alissa. The note is attached to a style card that helps put the items together in outfit suggestions. I loved them! While ultimately I'm an independent thinker and creative clothing assembler, I absolutely LOVE riffing outfits off of suggestions that include shoes and accessories.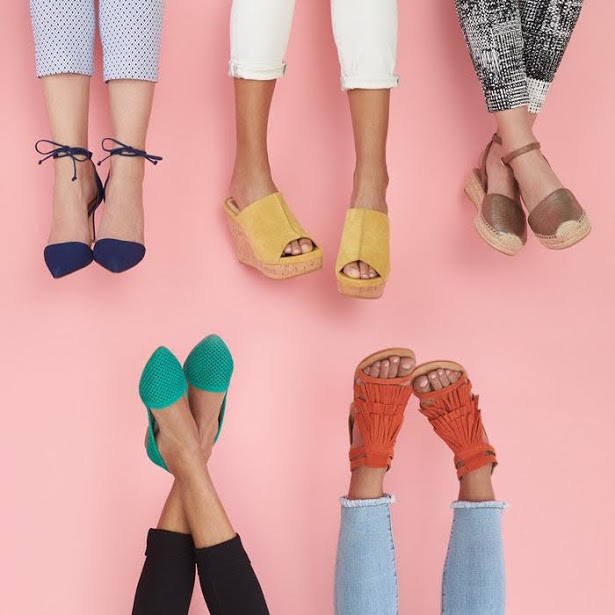 I wish I remembered exactly what I put on my questionnaire because the stylist picked up a few key aspects of my style EXACTLY. While some of the color choices are not my favorites, some are like getting a present from the friend that knows me best.
Here is what arrived:
Level 99 Charley Zipper Detail Coated Skinny Jean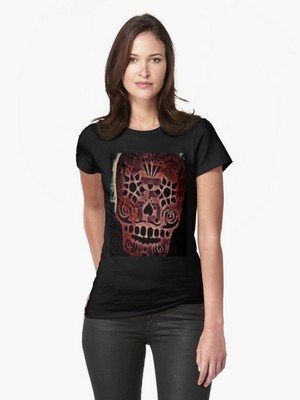 Ever since I started surfing I have become a skinny jean fanatic. To me they are the most comfortable clothing item I own next to my yoga or running capris. I have slept in my skinny jeans, stretched in my skinny jeans – you name it. They remind me of the feeling of my wetsuit without the salt, neoprene, sand, and other things I won't mention. These Level 99's are pretty awesome. The texture of the coated jeans is almost like a suede finish over regular jeans. The deep wine coloring adds a beautiful rich tone to my fall wardrobe. The most amazing thing was putting them on and having them fit perfectly. Between my 5'3″ height and my workout girl quads, it is not common for items to fit me well straight off the hanger (or in this case, out of the box!). The jeans have a fun urban vibe with visible sippers on the pockets and at the base of the leg. What do you think – keep or return these? These were love at first sight – I chose to KEEP them.
Olive & Oak Elton Airy Knit Cardigan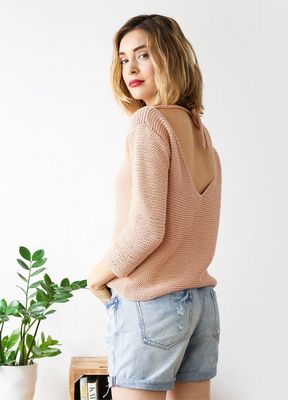 In many ways, this sweater is super not-me. I put together a little outfit based on Alissa's styling suggestions just to give it a whirl. I do like cardigans, but this style of cardigan doesn't really fit my wardrobe at all. Also, the tone of grey is cold and doesn't work at all with my dark hair and eyes and olive complexion. This one was a pretty quick decision for me. What do you think – keep or return it? For me this was a no-brainer – I chose to RETURN them.
Laila Jayde Bowie Solid Dolman Sleeve Top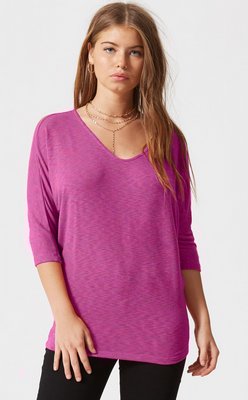 As much as I love skinny jeans, I love doman sleeved tops. I find them very feminine, comfortable, and stylish. This sweater is luxuriously soft and incredibly light weight. There is something about it that made me feel like an instant favorite. Contrary to my DYT palette rules, I do actually have a weakness for heathery grey sweaters. In fact, too much of a weakness – I have several even though I recognize that grey is not a winning color for me. My hesitation with this top, other than the grey, was how baggy it was on me. Even though it's an extra small, it has extra roominess around the torso that seems a little dumpy on me – hence the pose in this photo. I was exploring the parameters of this never ending piece of super-comfy fabric. What do you think – keep or return it? Believe it or not, I am STILL DELIBERATING.
Sanctuary Cayden Mixed Material Waffle Knit Sweater
The styling instructions for this sweater included jeans and a solid royal blue skirt. Black in general doesn't work great for me, and when paired with their suggestions I took on a harsh appearance I wasn't keen on sharing with the world here. Despite also being an extra small, this sweater was overly baggy on me, and workout capris were about the only thing I actually would wear with it. I enjoyed the sheer backing and the chunky waffle knit combined. If this had been in another color I may have had a whole different take on it. As it is, I had FUN wearing my running tights and 4″ heels together to snap this photo. What do you think – keep or return it? While the photo was fun, I chose to RETURN it.
Kensie Jeans Kaleigh Ankle Biter Skinny Jean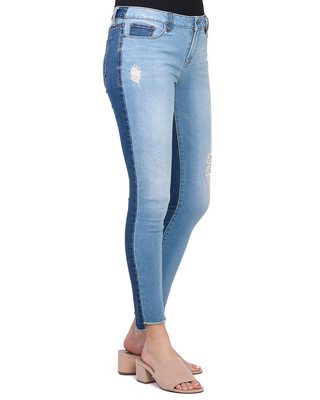 These jeans were a tad too big, and were also not as stretchy as my usual taste in skinnies. I have long legs for my body as well, and because of this I tend to prefer low-riders on the bottom. The name of these infers and ankle length pant, but because they were too big, they bagged up at the ankle. There were also wrinkles around the thigh and knees. The fabric is thick and course – not typical for an athlete like me. While I love some structure in my clothing, I prefer fabric weights and textures that are softer and thinner – more comfortable basically. It really doesn't cool off much in Southern California – no need for me to have a pair of jeans as thick as these unless I'm traveling. Finally, the waist was high for my taste, and the color, while fun, tends to read as harsh with my coloring. What do you think – keep or return these? Without much deliberation, I chose to RETURN them.
In the end, I was pretty impressed with Alissa's choices for me. While the color palette was a little bit bland for my tastes, at least one of the items was a spot-on choice for me. Next time, before my delivery, I will log in to my online account and be sure to note my preferred colors palette and connect with Alissa about what worked and didn't work this time around. Also, I am going to make sure to add to my personal style board on Pinterest and send Alissa a link so she can get a great guage of what kinds of colors and styles I enjoy.
What did you think of the items I received? What about you – have you tried Stitch Fix yet? If you have, I want to hear about your experiences too.
If you want to give it a try, I highly recommend Stitch Fix! Click HERE to get started.
Note: I do not get paid to write about Stitch Fix. I am excited about the service they offer, and I see value in it for you, my readers. As a Mom, I know how complicated it can be to shop with my little one in tow, and online shopping can become equally complicated when going for a varied wardrobe from multiple stores and vendors. If you choose to try Stitch Fix for yourself and use one of the links in this post, including THIS one, it helps me to earn Stitch Fix credits. Once you sign up for your first Fix, you can earn them too!