After discovering that my wardrobe has become years-old, I made one of my goals for last Fall to create a closet of new clothes that I absolutely love without breaking the bank or crushing my schedule. Enter Stitch Fix.
February marks my 4th Fix, and just like they say, the 4th time is a charm. Some of you may have heard of Stitch Fix. With Stitch Fix, a virtual personal stylist picks out my monthly "fix" and voila! in the mail is a box of 5 items hand picked for me based on my preferences. If I don't like any of them, I send them back. Whatever I like, I keep and pay for. That's it! Pretty awesome.
I have been Fix-ing for a few months now. In a moment I will show you each item that arrived in my latest box, but first – I want to explain a little bit more about what this is and how this has anything to do with being a Real Fit Mama – for those of you who haven't followed up until now.
What is Stitch Fix?
As mentioned above, Stitch Fix is an online business through which a stylist picks out clothing for you and sends it to you. When filling out the online questionnaire upon sign up, I answered many questions about my tastes, spending preferences, likes and dislikes. I pay a minimal $20 for styling with each delivery; this is the only amount I pay if I send back all of the clothes. If I keep ONE (or more) item and purchase it, the $20 is credited back to me. Pretty awesome!
What Does This Have to Do with Real Food, Fitness, and Being a Mom?
Part of the Real Fit Mama philosophy of great health includes celebrating and enjoying the bodies we have. Clothing that feels good and that I feel good in enhances my sense of wellbeing. I believe older clothing carries former toxins from our bodies, and I think it's important to replenish our wardrobes from time to time. Also, as a Mom, my clothes enjoy a whole new level of wear and tear. Between stains, frequent washings, and a solid increase in activity and heavy lifting, it is rare that my favorite clothing items last more than 1-2 years as a Mama.
As a busy working and working-out Mom, I don't always set aside time to do things for myself. Shopping often gets completely forgotten about or squeezed in on a necessity-only basis. With Stitch Fix, I don't have to forego my workouts, time with my family, cooking time, or career time to have beautiful exciting new clothing picked out by a stylist. Also, really – new clothes are fun! I love that someone has my back and is thinking outside of my normal comfort-zone picks for me.
Ok, are you ready to see what came in my first box?
Katherine's February Stitch Fix Items
Ok – honestly, when my box arrived I was somewhat skeptical. I DID enjoy the mystery of wondering WHAT was in that box, but after a few fixes that weren't solid winners, I didn't have a lot of expectation.
Well, you know what they say about expectation – it really isn't our best of friends… And, when we let go of expectation, true greatness can occur!
Inside this box were the usual beautifully wrapped packages of tissue paper around the FIX items and an envelope which contained a personal note from my new stylist (they keep switching them!). The note is attached to a style card that helps put the items together in outfit suggestions. While ultimately I'm an independent thinker and creative clothing assembler, I absolutely LOVE riffing outfits off of suggestions that include shoes and accessories.
Here is what arrived for February:
Shermineh Faux Leather Detail Ponte Pant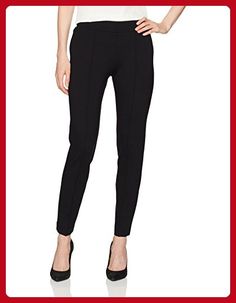 OMG! Who knew I would love these so much?! They are super comfy, and like many of my FIX items, fit me perfectly! I've worn them twice in the one week I've had them – and one of the things I really love about them is the rare combo of navy and black, which opens up lots of options for shoes and tops.
Pascha 3/4 Sleeve Printed Wrap Dress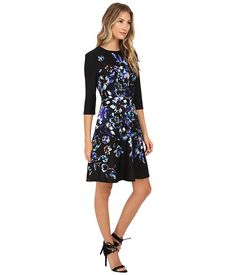 There's nothing like a grab and go dress. This winter has been all about the long-sleeved dresses with boots for me, and as our weather starts to warm up here in LA again (already!) these three-quarter sleeves are perfect. I enjoy the playfulness of the pattern on this piece, and I know I will be wearing it well into spring and summer for work and fun work-y events.
Salvador Cross Front Blouse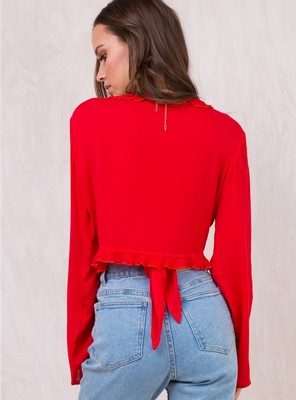 I have a cross front top that I wore all summer long, so when I opened this I was excited about the style. The color may not have been something I would pick out on my own, but it grew on me. This top is perfect for work events. My stylist recommends it with jeans. I thought it would be fun to pair it with my leggings that are almost the same color.
Miah Zipper Detail Hobo Bag & Alva Stripe Knit Scarf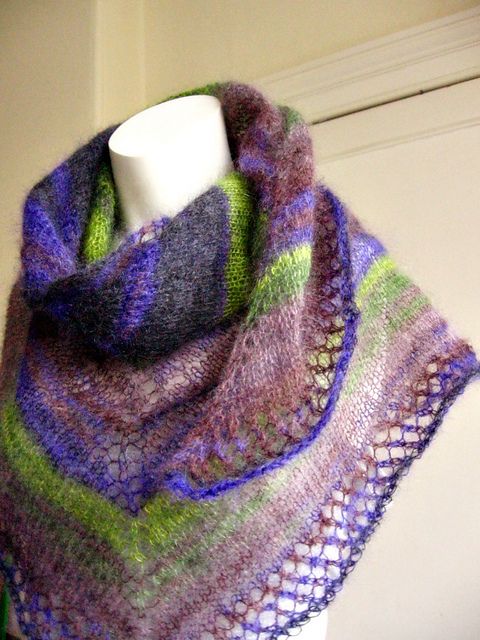 I was pleasantly surprised by my accessories this time around! I have been wanting a new bag, and hobo is the way to go for this woman who carries the world around with her on a regular basis. Make-up, water bottle, wallet, big phone, snack, journal, and more easily fit and still I can zip it up! Can't recommend big slouchy bags enough. I LOVE this bag and will now be a big bag addict from here out.
The scarf is another item I was surprised by and absolutely love! This cozy piece is as easy to throw on after a yoga class as on my way out during the day on a weekend. I love how soft it is, and the light tones are super versatile.
In the end, I am very pleased by Carina's choices for me. Part of the fun of having a stylist is having someone who thinks outside of my own box. This month's fix was full of fun items. So, my February Fix – is it love?
It is!
What did you think of the items I received? What about you – have you tried Stitch Fix yet? If you have, I want to hear about your experiences too.
If you want to give it a try, I highly recommend Stitch Fix! Click HERE to get started.
Note: I do not get paid to write about Stitch Fix. I am excited about the service they offer, and I see value in it for you, my readers. As a Mom, I know how complicated it can be to shop with my little one in tow, and online shopping can become equally complicated when going for a varied wardrobe from multiple stores and vendors. If you choose to try Stitch Fix for yourself and use one of the links in this post, including THIS one, it helps me to earn Stitch Fix credits. Once you sign up for your first Fix, you can earn them too!